PG Diploma in Electric Vehicle Technology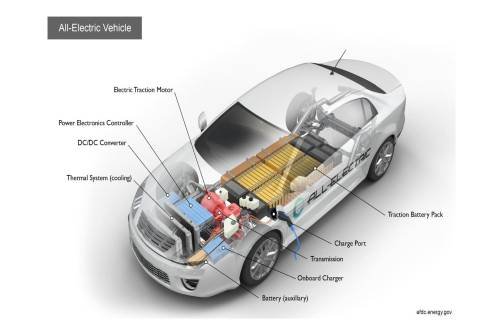 PG Diploma in EV Technology
The PG Diploma in EV  Technology Certification program is the first of its kind in India as part of  the ev courses. It is an 12-months long program that trains you on all the essential engineering concepts in the electric vehicle design course and tools that are used by top OEMs to design future Electric & ICE Vehicles. 
Electric vehicles have seen a huge growth in the industry and are expected to grow 10 fold by 2025. Governments are encouraging their citizens to buy hybrid electric vehicles and electric vehicles in order to reduce carbon emission. This means that companies are looking for candidates that are well qualified in this field and have relevant skills during the ev courses that they can contribute for the growth of the company.
Apart from this, the market has also opened a myriad of opportunities for freshers. With very few people in the industry with the required knowledge in this field, learning this course, increases your chances of landing a job in a company.
Course Syllabus – ev courses
Module 1: Introduction to Electric Vehicles
• History and evolution of electric vehicles
• Types of electric vehicles (BEVs, PHEVs, HEVs)
• Environmental and societal benefits of EVs
Module 2- Overview of Electric Vehicle in India
This module will provide the background and overview of the programme learning. It will introduce the need for electric vehicles, classification of electric vehicles, understanding of electric drivetrain, electric vehicle design course etc.
• Outlook for EV and the Indian Scenario
• Basic scheme of EV drivetrain
• Vehicle dynamics and concept of drive cycles
• Range of EV and EV battery trends
Module 3: EV Components and Architecture
• Electric motors and motor controllers
• Battery technologies and management systems
• Power electronics and inverters
• Charging infrastructure and standards
Module 4: EV Powertrains
• Electric powertrain design and integration
• Transmission systems for EVs
• Regenerative braking and energy recovery
Module 5: EV Batteries and Energy Storage
This module is designed to provide a relevant and holistic view of the various of any electrochemical device.
• Electrochemical cell and battery
• Battery chemistry and materials
• Battery thermal management
• Battery safety and recycling
• Range of EV and EV battery trends
• Types of batteries used in EV
• Other electrochemical storage relevant to EV
• Fuel cell & Flow battery.
Module 6 – Battery Characteristics
• Battery state and rate of discharge: SOC, SOH, C-rate
• Key characteristics of battery: Voltage, current-voltage characteristics
• Li-ion battery: present state of the art and future directions
• Li-ion battery testing
Module 7- Battery Module and Pack
The understanding gained from module 6 will be used for designing and building of the battery cells for real application.
• Battery modules and pack
• Sizing of battery pack
• Mechanical and thermal design of battery pack
Module 8: Electric Vehicle Electronics
• On-board diagnostics (OBD)
• Vehicle-to-grid (V2G) and vehicle-to-home (V2H) technologies
• Autonomous driving and advanced driver-assistance systems (ADAS)
Semester II: Advanced EV Technology and Applications
Module 9- EV Design
• Design Aerodynamics
• Vehicle Dynamics and Traction System
• EV Control Methods
• EV Charging
• Homologation and Testing
• Mini Project
Module 10: EV Manufacturing and Production
• EV manufacturing processes
• Quality control and safety standards
• Lean manufacturing and automation in EV production
Module 11 – Power Electronics Interface
The charge discharge of the battery pack requires matching of its drivetrain characteristics. This matching is through power electronics c provide relevant background to power electronics required to understand electronics interface.
• Voltage and current levels in EV
• Power electronics interface – Basic devices and components
• Convertors and invertors (buck and boost)
• Traction motors and their characteristics
• Battery Management System (BMS)
Module 12: EV Testing and Certification
• Vehicle testing and certification
• Emission standards for EVs
• Crash testing and safety regulations
Module 13- Charging Infrastructure
The success of the electric vehicle will depend on the suitable
charging infrastructure. The module will cover the relevant details
related to chargers as well as smart and mini-grids etc.
• Charging station design and installation
• Fast charging technologies
• Wireless charging and interoperability
• Chargers for EV – Levels/Standards
• Charger types and Indian standard
• Battery management system
Module 14- Government EV Policies
This module will discuss various government policies relevant to electric vehicles.
• EV Indian scenario and future projections
• Total cost of ownership
• Indian EV policies
Module 15: EV Market and Business Models
• Global EV market trends
• Business models for EV manufacturers and startups
• Government incentives and policies
Module 16: Sustainable Transportation and Future Trends
• Integration of EVs into smart grids
• Mobility as a Service (MaaS)
• Future trends in EV technology and transportation
Capstone Project:
Students will undertake a real-world project related to EV technology. This could involve designing an EV prototype, developing a charging station, or conducting a market analysis of a specific region.
Internship/Industry Attachment:
Students will spend a specified period working with EV manufacturers, research institutions, or related organizations to gain practical experience during the ev courses. 
Assessment:
• Continuous evaluation through assignments, quizzes, and class participation.
• Mid-term and end-term examinations.
• Evaluation of the capstone project and internship reports.
IISE reserves the right to make changes to the syllabus to our ev courses as and when necessary. This flexibility is essential to ensure that our academic programs remain current, relevant, and aligned with industry advancements and educational best practices. While we strive to provide a stable and well-defined curriculum, several factors may necessitate changes to the syllabus:
Eligibility
Passed Graduate/ Diploma Engineer or Graduate/Post Graduate examination with Science and Mathematics or its equivalent

Preference will be given to candidates working in the Automotive/ Related energy sector.

Admission for this course will be conducted in TWO PHASES for the convenience of International and upcountry students.
Please note that ONCE SEATS ARE FILLED IN THE FIRST PHASE, ADMISSION FOR THE SECOND PHASE WILL NOT BE HELD.
Admission Notice – Advance Electric Vehicle Design Engineering for the academic year 2024-25.
IISE is offering Solar Technician Diploma for the academic year 2024-25. This course is specifically designed for working professionals in the solar sector who are looking to upgrade their skill & profile as per the latest industry standards.
Admission to this course will be conducted in two phases. If the seats are filled in the first phase. Then second phase of admission won't be held.
FIRST PHASE:
Online application start date: 24th November 2023
Last date for application is  12th December 2023
Last date for Discounted fees is  10th December 2023
Last Date for Admission is  12th December 2023
Application received on or before 12th December 2023 will be shortlisted and called for admission process by the Third week of  December 2023. The Exact dates will be communicated to the shortlisted candidates.
Selection for PG Diploma in EV training will be strictly on Merit. Seats are limited so students would be shortlisted on first cum first serve basis depending upon qualifications & experience. If the number of applications received is more than expected. IISE have the right to conduct entrance exam & personal interview to fill the vacant seats in the second phase. Originals should be presented during the personal interview stage.
Programme Fees
If paid in full by the student, the total fee for the course is Rs 99,999/- (Rupees Ninety Nine Thousand Nine Hundred & Ninety Nine only).
Payment by monthly EMI
Students can also pay the fees through Easy Monthly Installments subject upon eligibility. This facility is arranged with our banking partner. Details of the same will be shared with shortlisted candidates only.
Job Placement Assistance:
We have a dedicated job placement cell for our students. IISE students are recognised through out the industry both for private and government jobs. The Solar sector is constantly looking to fill up the Engineer roles who has successfully completed the PG Diploma in Electrical Vehicle Technology course .
Course Equivalency :
This course is equivalent to following courses below.
electric vehicle design course, ev training, e v course, electric vehicles courses, electric vehicle courses, ev course.
For Overseas Students:
If you are interested in the course, Please make the payment of  USD 120/  for the application. This amount is non – refundable.
Payment link for the course application  – Payment Link
To know more Please check the FAQ Tab on this page
We ensure EV Engineers are equipped with the know how and best practices to design EV infrastructure, which provides end customers with an assurance that they will receive a highly trained EV Engineer. The tailored certification training puts you at the forefront of best practices.
On successful completion of the module, you will be able to
Those completing EV Engineer training can find employment in the nodal agencies of the Ministry of Non-conventional Energy Sources, voluntary agencies and other organizations promoting the technology at district and block levels.
Entrepreneurial opportunities is also be available in terms of opening shops for spare parts, servicing and sale of EV equipments,  auxiliary devices etc. 
The information above reflects the currently intended course structure and module details. Updates may be made on an annual basis and revised details will be published through Programme Specifications ahead of each academic year. The regulations governing this course are available on our website.
Similar EV Events like PG Diploma in EV Technology.
| Training Events | No of seats | Apply Link |
| --- | --- | --- |
| Solar Train the Trainer Workshop | 10 | Apply Now |
| Five Days Solar Workshop | 10 | Apply Now |
| Two Days Solar Workshop for business Entrepreneurs | 10 | Apply Now |
| Solar Installer Training | 10 | Apply Now |
| Solar Practical workshop for O & M | 10 | Apply Now |
| Solar Off -grid Workshop | 10 | Apply Now |
| Fundamentals of  Electric Vehicle workshop | 10 | Apply Now |
| Solar Health & Safety Workshop | 10 | Apply Now |
| Advance Electric Vehicle Training Workshop | 10 | Apply Now |
online Program like PG Diploma in EV Technology.
| Course Name | No of seats | Apply Link |
| --- | --- | --- |
| PG Diploma in Solar Renewable Energy | 30 | Apply Now |
| Solar on grid design and installation Online Course | 30 | Apply Now |
| Solar for Business Entrepreneurs Online Course | 30 | Apply Now |
| Solar Installer Online Training | 30 | Apply Now |
| Fundamentals of Battery Storage Online Course | 30 | Apply Now |
| Solar Off -grid Online Course | 30 | Apply Now |
| Diploma in Solar Technology Online Course | 30 | Apply Now |
| Fundamentals in Electric Vehicle Technology Online Course | 30 | Apply Now |
| Fundamentals in Solar PV Systems Online Course | 30 | Apply Now |
| Solar Technician Diploma | 30 | Apply Now |
| Advance Electric Vehicle design Online Course | 30 | Apply Now |
Join these groups to get the latest Course updates:
Be the first to add a review.
Please,
login
to leave a review